Best Performance laptops under ₹70K (2023)
New Year, New AIO Laptop picks (Jan-2023) are here. Many students are in a dilemma to buy the best laptop which is a perfect fit for them or for college work.
Looking at the student's requirements and Interests we have carefully picked up and selected the best laptops that you can purchase for under ₹70K which includes both Professional & Gaming Laptops. All of the laptops are either i5 12th gen or i7 11th gen.
Here are some basic parameters that you need to consider before making a purchase
i5 12th gen > i7 11th gen
RTX 3050 > RTX 2050 > RTX 1650 > Xe Graphics
SSD > HDD
Here is some Great Laptop deals under ₹70,000.
Intel 12th Gen. i5-12450H
40CM FHD 144Hz Gaming Laptop
(8GB/512GB NVMe SSD/Windows 11 Home /Nvidia RTX3050 4GB GDDR6/Black/2.25Kg)
Price: ₹69,990
Intel 11th Gen. i7-11800H
40CM FHD 144Hz Gaming Laptop
(8GB/512GB NVMe SSD/ Windows 11 Home/NVIDIA RTX 3050 4GB GDDR6/Black/1.86Kg)
Price: ₹65,990
12th Gen Intel Core i5 Processor 1240p
15.6 inch(39.6 cm) FHD display
(8GB RAM/512GB SSD/GTX 1650 4GB Graphics/144Hz /Win 11/MSO/B&O/Alexa/Xbox Pass)
Price: ₹66,990
Intel Core i5 12th gen (12-Cores)
(8 GB/512 GB SSD/Windows 11 Home/4 GB Graphics/NVIDIA GeForce RTX 2050)
Gaming Laptop (15.6 inches, Steel Gray 1.8 Kg
Price: ₹61,700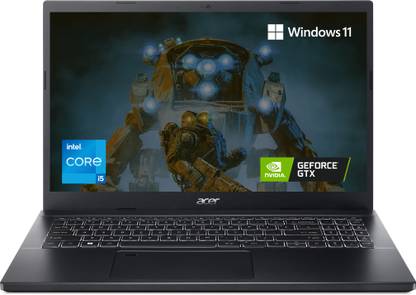 Core i5 12th Gen 1240p
(8 GB/512 GB SSD/Windows 11 Home/4 GB Graphics/NVIDIA GeForce GTX 1650)
Laptop (15.6 inches, Charcoal Black, 2.1 Kg)
Price: ₹57,990